So, I was really inspired by some of the awesome craft sites I've been visiting lately. I added them on the right to my link's list. Anyways, I figured I'd start the post off with some recent pics of things I've updated in my little townhouse just to show what I've been working on! Plus, tonight I'm REALLY excited. I found a pretty cool tutorial on Night Owl Crafting. I'll post pics later of how I did.... I did things a bit different, but still got the idea from her FABULOUS site.You can click below to check out her site!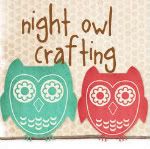 This was my first little "mini" project. I bought some vinyls and cut them apart. Then, I put them on cardstock scrapbook paper, and framed them. Total cost= like 4 bucks! YES! And if you can't read it (because my camera sucks) it says, "Love makes everything grow!"


Then, I was oh so excited about this! I am in love with Audrey Hepburn. So I re-set up my little bay window with classy pics, candles, pillows, and such. The curtains are black and white, so they match my bedroom. I bought curtains with little slots in them so to speak, so I went to the dollar tree and just bought some fake flowers to stick in them. Yay!




This was a cool idea I got from Ashley's Thrifty Living. It was a two dollar mirror! Check out her site that I linked on the right to make it! It's so easy and so cute!! By the way, this is NOT the right colors of my wall, mirror, and picture. I MUST invest in a new camera asap!


I had to include this because I ADORE yard sales. I got this little black "tray" for .5 cents! What a steal! I repainted it, and decorated the mirror parts with scrap booking materials and look now it is presentable! haha Always looking for POTENTIAL is key. ;)


Anyways, I am off to work on the awesome craft I mentioned above. I will take pictures of the step by step process, so I will have a tutorial up later or tomorrow! Please comment, I would really love to get to know some of you all! Hope to hear from you soon! By the way, does anyone know about competitions or crafting days in the craft blog community? haha I have been real interested, but I have no idea where to start...